The laboratory is a joint research unit associating the CNRS (UMR5240), Claude Bernard Lyon 1 University  and INSA of Lyon (University of Lyon), together with our industrial partner, around a common interest for the mechanisms of adaptation and pathogenesis of a large array of cellular microorganisms (archaea, amoebae, bacteria, fungi and yeasts).

Pathogenesis is a specific case of adaptation to a specific environment, that of a living organism: plant, insect, amoeba, man.

Within a campus dedicated to Environmental Biology (LyonTech La Doua), our research unit develops multi-discplinary approaches (biochemistry, genetics, molecular biology as well as various global approaches -genomics, transcriptomics, proteomics, metabolomics -, and mathematical modeling), to generate the integrative knowledge aimed at understanding the mechanisms of phenotypic adaptation in all such microorganisms.

The unit is organised into five research teams focused on different topics, with two transversal axes.

Tweets by MAP_UMR5240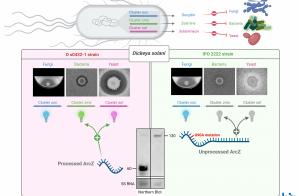 La bactérie phytopathogène Dickeya solani est responsable de pertes économiques importantes en agriculture. Cet article démontre que trois clusters génomiques chez cette bactérie permettent la synthèse de métabolites secondaires, avec des propriétés antifongiques ou antibactériennes. En outre, il a été déco...
All news