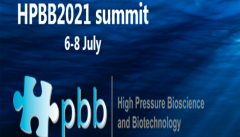 Activities
Welcome to the High Pressure Biosciences and Biotechnology Conference 2021
The M2E team and Philippe Oger is co-organizing the International Conference on High Pressure Bioscience and Biotechnology, HPBB2021, for the first (and hopefully last) time online.
The international association of High Pressure Bioscience and Biotechnology (HPBB) is devoted to support the dissemination of the research within high hydrostatic pressure bioscience and biotechnology with three main themes.
In this particular year, we will discuss the latest research and developments relevant to applications of high pressure across the HP subspecialties:
Food Science
Biological & Biotechnological Sciences, Biochemistry & Biophysics
Microbiological & Marine Sciences.